Baker's have been producing quality Angus cattle for over 70 years, concentrating on the traits that commercial cattlemen demand in their bulls. Balanced E.P.D's, positive performance, easy fleshing ability, carcass and disposition. Whether you are running straight Angus or are cross-breeding, these bulls will give you more pounds per calf at weaning. The females are well uddered and fertility and longevity is important in our program.
We have been raising Black Angus cattle since 1951, and have been located at our ranch near the Black Hills of South Dakota since 1977. We are located 10 miles from the Wyoming border and 20 miles from the Montana border. We are a family-owned and operated ranch dedicated to producing Angus cattle that perform with predictability.
Our cow herd is fertile and efficient, maintaining the calving ease and maternal ability the Angus breed is known for. BAKER'S LEMAR ANGUS is dedicated to using proven genetics that produce the like kind in performance, quality and milking ability. We try to select and produce genetics for the times ahead. Our cattle are performance tested and marketed through our Annual Production Sale in April.
Stop by and visit anytime and see our cow herd.
Leo Baker and Bill Davis.
Photo courtesy/Crystal Young, Amer angus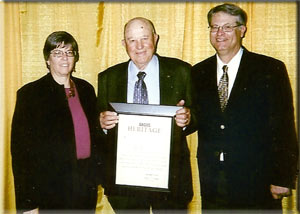 Leo Baker with Mike & Sandra Baker
Photo courtesy/Crystal Young, Amer angus
Leo Baker inducted into Angus Heritage Foundation
The Angus breed has a rich heritage in the U.S., built on more than 127 years of genetic improvement and generations of dedicated breeders and enthusiasts who have made it possible. Each year, the American Angus Association honors select individuals for their dedication to the improvement and advancement of the breed by induction into the Angus Heritage Foundation.
This year, Leo J. Baker, St. Onge, SD was one of the inductees. Inductees were recognized during the Association's Annual Banquet, November 15 in Louisville, KY. He received a framed certificate and his name will be engraved on a plaque at the Associations Saint Joseph, MO headquarters.
Leo J. Baker of Bakers Lemar Angus Ranch has been a producer and promoter of black Angus cattle since 1952. He attended his first annual meeting of the American Angus Association in Chicago and has attended almost every year since.
Baker started his own herd with 13 registered heifers that, in turn, delivered 13 bull calves.
He and his family were hosts at their ranch to the World Angus Forum in 1993, and he has sold breeding stock both nationally and internationally.
Baker has served on several state and local boards involved in cattle and agricultural production. He is a member of the American Angus Association, the South Dakota Angus Association and the Black Hills Angus Association.
The Belle Fourche, SD, Chamber of Commerce honored Baker in 1997, naming him Agribusiness Person of the Year for his contributions and leadership in the area. He was also named 2010 Breeder of the Year by the Black Hills and South Dakota State Angus associations. Baker served for six years on the Board of Directors of the American Angus Association.
Source: Tri-State Livestock News, Saturday, Nov. 27, 2010 and Angus Journal, January, 2011.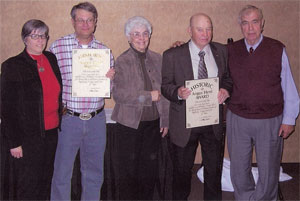 Tom Burke – American Angus Hall of Fame presents Historic Angus Herd Award to Leo & Mike Baker – Bakers LEMAR Angus for having been a continuous producer of Registered Angus Cattle for over 50 years. (Mike 50 yrs and Leo 59 yrs)
Leo honored by South Dakota Angus Association as
Breeder of the Year 2010